Original 1917 Sopwith Camel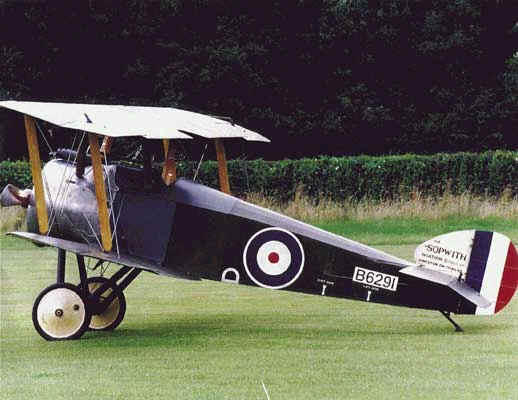 Serial No. B6291, Reg. No. G-ASOP
This is the premier example of the most famous fighter of WW1. There are only 4 other F-1 Camels left in the world today. In addition, there are 3 Navy Type Camels designated 2F-1. All of these are permanently in museums in various stages of originality. Even the Army, Navy, Air Force and Smithsonian museums do not have a "real" Camel! They have only replicas.
This is the only well documented original flyable Camel. This is the only remaining one that was built by Sopwith. All others were built by subcontractors at other factories.
This is the only complete Camel with documented history placing it in an operational squadron on the western front during WW1 (No. 10 Squadron).
This Camel was restored to flying status in 1989 by British Aerospace Company in the same factory, Kingston on Thames, where it was originally constructed in 1917.
This is the only Camel to have its original data plate. This 88-year old Camel is unmatched in condition and in historical importance by any Camel in the world today. The airframe and the 110 hp LeRhone engine were carefully overhauled and test flown. All work was professionally documented.
Recent independent appraisals of this Camel show a high appraised value of $2.8 million and a low of $1.6 million. If you have a serious interest in purchasing this airplane, please contact me at 702-723-1214.
THIS IS PROBABLY THE LAST TIME IN HISTORY THAT AN ORIGINAL WILL BE AVAILABLE FOR PURCHASE OR EXCHANGE - EVER!!